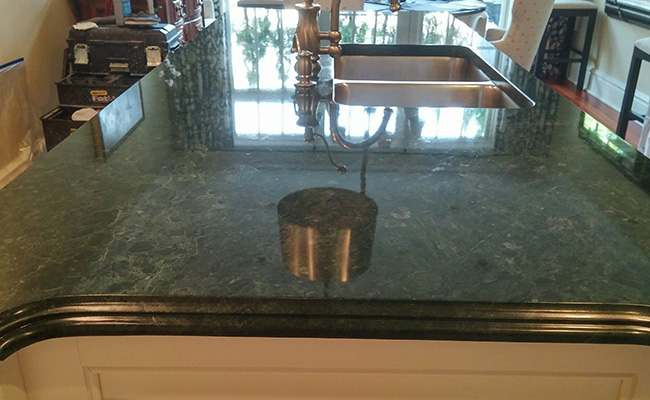 The Problem
The surface of this marble island top in a Birmingham, MI kitchen was badly etched, stained, and scratched. Our clients called us to request "marble buffing" services, but the damage on this countertop required professional stone restoration services to be removed.
ABOUT ETCHES
People sometimes refer to a marble etch as a water stain or a dull spot, but there's a difference between a stain and an etch. For example, suppose someone leaves a drink such as alcohol or fruit juice in a paper cup on the bar. Later the customer notices a ring of white haze that does not wipe off the stone. The white mark actually has a texture compared to the smooth surface of the stone, because the acidic substance reacts with the calcium in the stone.
ABOUT STAINS
A stain is an unwanted color change that takes place when a substance penetrates the porous surface of stone. Sometimes stains can be removed using a poultice method.
PROFESSIONAL STONE RESTORATION
Stone restoration should always be performed by a qualified, professional stone restoration contractor to avoid further damage of the stone. The homeowners were aware of the good reputation of Stone Restoration Services, so they contacted us to provide the necessary marble repair services.
Our Solution
First, we performed our marble honing process, using a series of progressively finer grits to diamond hone the damage away, revealing the brand new stone underneath. Then we followed up with our marble polishing process to restore the elegance to this marble island top.
As you can see in the image, the damage is completely removed and the marble island top looks like it was just installed. The homeowner was very satisfied with our work.
For more information about professional marble restoration services, watch our short video on our Marble Services page. We also refinish granite countertops.
---
If your granite, marble, or other natural stone island top, countertop, or other surface has become etched, scratched, stained, or damaged, contact us online or call (248) 220-1672 to discuss your options. We provide a wide array of natural stone services, including marble polishing in Birmingham, MI, Bloomfield Hills, MI, Detroit, and the surrounding areas.