Protective and specialty treatments - Detroit, Southeast Michigan
Protective and Specialty Treatments
Our expertise goes beyond surface restoration and maintenance. The skilled and knowledgable technicians at Stone Restoration Services are trained and certified in the highly specialized processes necessary for the successful application of protective and specialty treatments for countertops, floors, and other surfaces.
Stains and etching are the most common reasons people decide against new marble, onyx, or other calcite-based stone countertops, or if they already have marble countertops, why they wish they had some other countertop material that was not so high maintenance. Imagine never having to worry stains and etch damage. With MORE™ AntiEtch™ protective treatment, you can have your marble—and use it, too!
MicroGuard AD1000 All-In-One Hard Surface Finish provides a long-lasting, stunningly beautiful, sustainable and non-sacrificial finish that protects tile and grout, stone, terrazzo, non-ferrous metal, painted metal, and concrete surfaces from corrosion, abrasive wear, mold, odor, graffiti and chemical attack. With this high quality specialty treatment, your floors and surfaces will last longer, stay cleaner, and cost less to maintain.
Stone Restoration Services has a proven track record in Southeast Michigan and beyond of providing customized solutions for our clients that meet a host of unique needs on various surfaces, even in the most demanding environments.
Protect Your Tops With MORE™ AntiEtch™
Acid-sensitive stones like marble, limestone, travertine, and onyx are prone to etching. When acidic substances come in contact with calcium-based stone, the acid actually begins to eat away at the surface, which creates dull spots known as etching. An etch is not a stain and cannot be prevented by using even the best penetrating stone sealer.
Everyday items that you use in your kitchen such as lemons, vinegar, coffee, wine, and soda, or in your bathroom, like toothpaste, certain cleaners, and lotions, can quickly cause an etch mark. While it's certainly possible to repair etches, the process can be labor-intensive and expensive. Most importantly, the repair does not protect against future etching.
MORE™ AntiEtch™ will stop etching and staining caused by acidic foods and liquids. This innovative solution forms a durable, ultra-low visibility, super-thin, coating that prevents the toughest stains and caustic solutions from coming in contact with your marble countertop surface. Benefits include:
Stops etching and staining
Crystal clear finish
Can be applied on marble, limestone, onyx, travertine, and concrete
Can be applied to honed, polished, and leathered surfaces
Can be applied to both horizontal and vertical surfaces
Low odor during application
Environmentally friendly
Safe on food-contact surfaces
Zero porosity – germs and bacteria have nowhere to grow
Will not crack or peel
Easy to maintain and repair
Durable – 10 year expected wear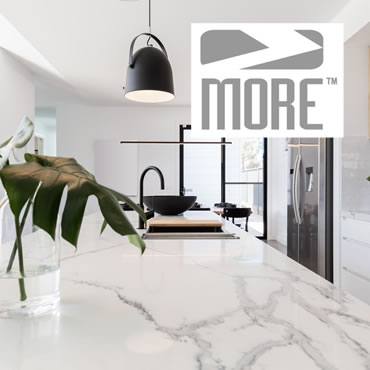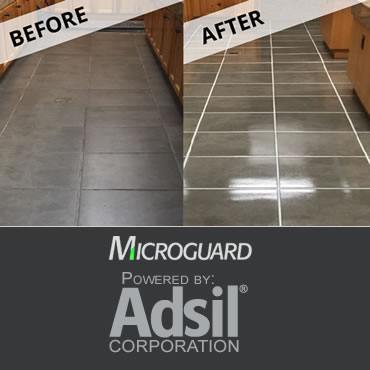 MicroGuard AD1000 All-In-One Hard Surface Finish
MicroGuard AD1000 All-In-One Hard Surface Finish is an inorganic, self-curing, glass-like coating that is among the most durable coatings known to mankind. So different and effective, it's patented. This clear siloxane sealing system covalently bonds with a variety of hard surfaces to produce a beautiful, strong, thin, clear coat that delivers remarkable adhesion, long-term protection, and wear-resistance. Benefits include:
Beautiful, hi-gloss finish
Extends asset/property life
Mitigates microbial growth (ASTM G-21 rated 0)
"High Traction" wet or dry (NSFI certified)
Eliminates the need for waxing and buffing
Wear resistant, long-term durability (ASTM D-4060)
Crystal clear, non-yellowing finish
Chemical, abrasion and stain resistant
Sustainable with proven ROI
Easy to clean, low maintenance
Cost reduction in cleaning materials and labor
Enables green cleaners to be effectively used
No maintenance contract necessary
Non-sacrificial, graffiti protection
Enhances the color of decorative stone
Indoor or outdoor use
Contact us for protective and specialty treatments in Detroit, Southeast Michigan.