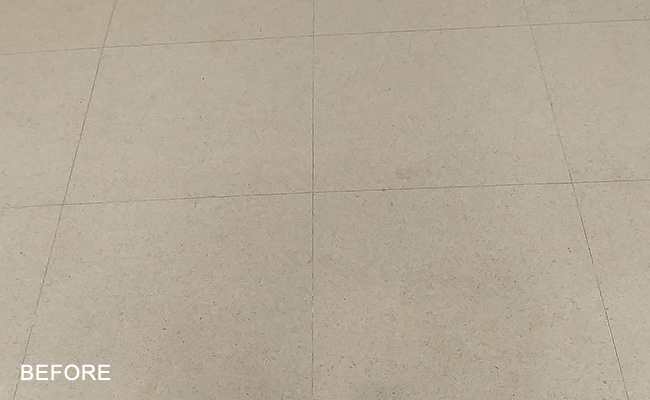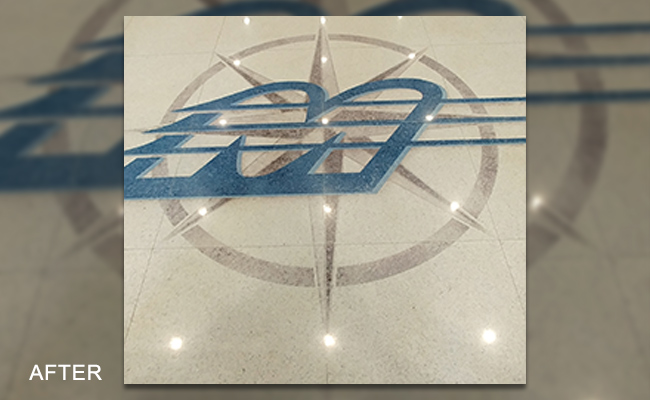 Dull-Looking Terrazzo
The main lobby of a manufacturing facility in Sterling Heights, MI had a dull-looking terrazzo floor. Although the floor was in relatively decent condition, it looked rather unimpressive.
Terrazzo Logo Staining
First, we ground and honed the floor to remove any surface damage and prepare it for staining. Then, we carefully applied several coats of blue and gray stain, using a stencil to keep the stain in the appropriate area. Then, we continued honing, gave the floor the nice reflective polish you see in this AFTER image, and finished up with a coat of impregnating sealer to inhibit staining.
The logo really brings life to this lobby area and creates a positive first impression for employees, clients, and visitors.
To learn more, watch our short video on our Terrazzo Services page.
---
If your terrazzo floors need to be repaired, stripped, honed, polished, and sealed, contact us online or call (248) 220-1672 today to schedule residential or commercial terrazzo restoration services. We provide terrazzo polishing services in Sterling Heights, Detroit, and the surrounding areas.