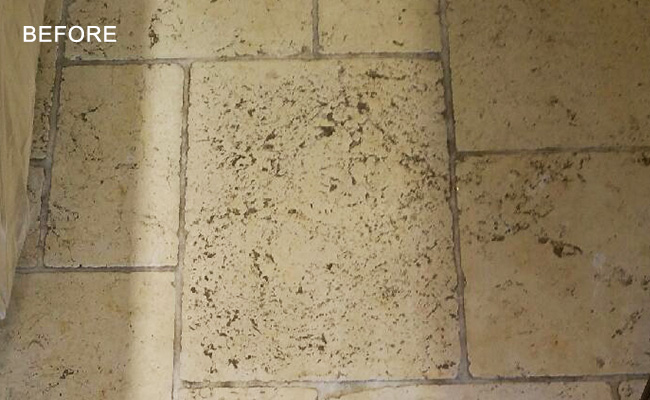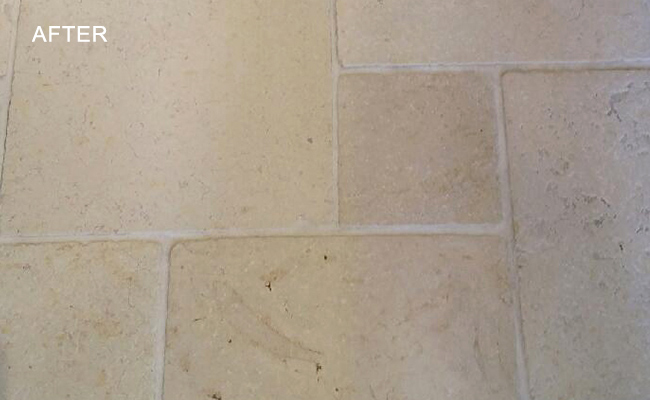 Dirty Travertine Floor
Travertine naturally has holes. Sometimes the holes are filled in and honed smooth, sometimes the holes are left alone. It all depends on the preference of the homeowner. When the surrounding decor is rustic, the natually-weathered appearance of unfilled travertine is desirable.
Homeowners in Rochester Hills, Michigan liked their unfilled travertine. But over the course of time tiny holes in their travertine had filled with dirt and grime, and the floor had become impossible to clean with regular cleaning methods.
Travertine Deep Cleaning and Sealing
First we masked and protected the surfaces surrounding our work area. Then we used powerful and effective commercial hot water extraction equipment to remove the contaminants embedded deep down in the holes of the travertine as well as within the porous grout lines. Finally, we buffed the floor and applied a solvent-based impregnating sealer to inhibit staining.
To learn more about professional travertine restoration services, watch our short video on our Travertine Service page.
---
To protect the investment of travertine floors, walls, showers, outdoor spaces and other travertine surfaces, travertine restoration, such as etch removal, lippage removal (leveling uneven tiles), crack and chip repair, stain removal, sealing, and other services are periodically necessary. Stone Restoration Services provides travertine repair and restoration services throughout the Rochester Hills, MI area, as well as Detroit and the surrounding areas. Contact us online or call (248) 220-1672 today.