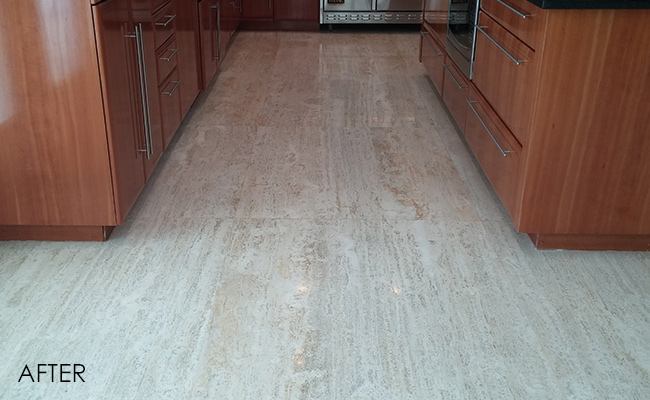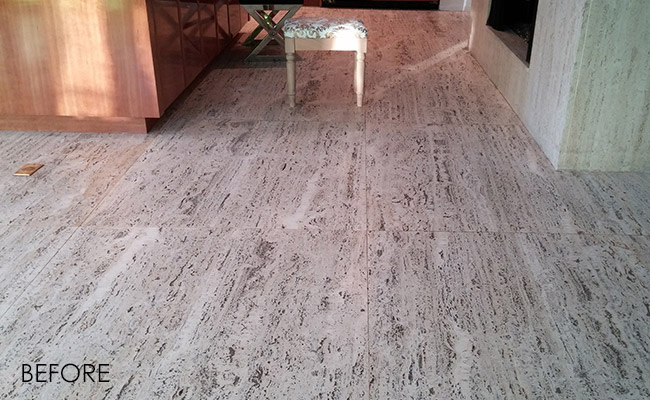 Dirty Travertine Floor
We immediately noticed how this homeowner's floor in Bloomfield Hills, MI looked very dirty. It had nothing to do with the homeowner's cleanliness, though.
Travertine has naturally occurring holes. If these holes are left alone, the travertine is called unfilled, but if the holes are filled in and honed smooth, the travertine is called filled. This was an unfilled travertine floor, which is great for contributing to a rustic, natually-weathered decor, but not so great for ease of upkeep. Such floors should be regularly deep cleaned by a professional stone restoration contractor to remove the dirt and grime that collects in the tiny holes.
Regular sweeping and mopping just don't cut it with unfilled travertine and high traffic and use.
How We Restored This Travertine
First we prepared the area by masking and protecting the cabinets and baseboards. We removed the electrical outlet cover (as you can see in the left-hand side of the images) and protected that area as well. Then, we mixed and tinted epoxy filler to match the existing floor and used it to float or fill in the holes. Our travertine honing process put a soft, even finish on the floor. Throughout the restoration process, we used extra care to avoid the electrical outlet. We also cleaned the grout, gave the floor a light polish, and then sealed the floor with a solvent-based impregnating sealer. The result? Travertine floors as good as new!
To protect the investment of travertine floors, walls, showers, outdoor spaces and other travertine surfaces, travertine restoration, such as etch removal, lippage removal (leveling uneven tiles), crack and chip repair, stain removal, sealing, filling naturally-occurring travertine holes, is periodically necessary. To learn more about professional travertine restoration services, watch our short video on our Travertine Service page.
---
Stone Restoration Services provides travertine repair and restoration services in Bloomfield Hills, MI, and throughout the Detroit area. Contact us online or call (248) 220-1672 today.