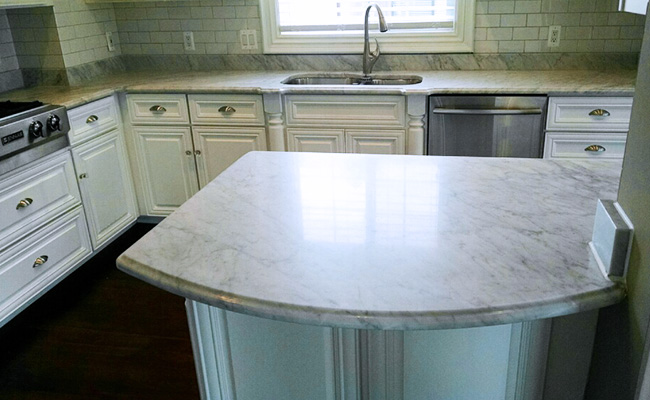 Homeowners Dissatisfied with Marble Finish
Sometimes people contact us as a last resort before having their floors or countertops replaced. Natural stone problems that look complicated can often be resolved for just a small portion of the cost of replacement. Such is the case with this kitchen with white Carrara marble countertops and island top. The Birmingham, MI homeowners were dissatisfied with the polished finish they had selected when the countertops were installed. They wanted something with a soft appearance to compliment the neutral décor.
We Changed the Marble Finish
Once we had a good look at the condition of the stone, we knew this job would be a cinch. With a light honing, we gave the marble island top and countertops a beautiful, honed satin finish. As you can see, it has a nice, soft sheen, and is less reflective than a high-polish finish.
We finished this job with an impregnating sealer. Our marble countertop sealing services help inhibit staining and protect the surface from damage.
To learn more about marble countertop refinishing services, watch our short video on our Marble Services page.
---
To change the finish of your marble countertops in Birmingham, MI, Detroit, MI, and the surrounding areas, contact us online or call (248) 220-1672 today.