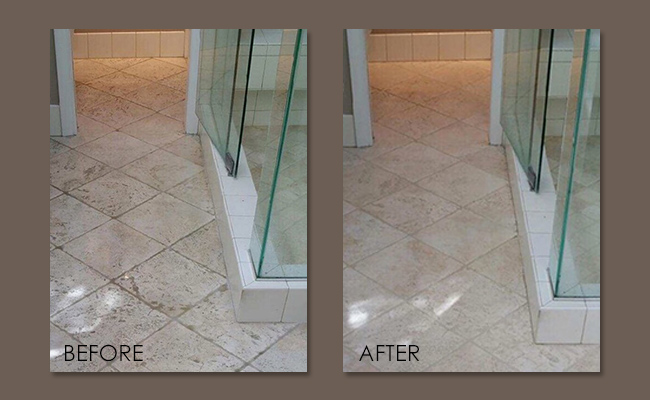 The Problem
Homeowners often don't realize how dirt and grime accumulate, diminishing the appearance of their floors. They are used to seeing the floors in their homes day after day, and it happens very gradually. Our customers, Bloomfield Hills, MI homeowners, regularly swept and mopped their limestone floors, but one day they noticed just how dirty the limestone floors had become. So they called us.
The Solution
The professional stone restoration technicians at Stone Restoration Services examined the floor and determined that because the limestone was so porous and because there was so much grout between the tiles, the best approach to restoring this floor would be to use high-quality equipment and cleaning solutions specially formulated to safely clean limestone.
The commercial-grade equipment uses hot water extraction to flush out and remove dirt and grime trapped deep within the porous surface of the stone and grout lines. Once the floor was completely clean, we applied a limestone sealer to inhibit staining and make regular cleaning more productive.
The homeowners could not believe it when they saw the difference between the before and after images, as you can see for yourself. If you would like to learn more about professional limestone cleaning and restoration services, visit our Limestone Services page.
---
If you live in Bloomfield Hills, MI or anywhere in the Detroit area and you are looking for professional limestone services, contact us online or call (248) 220-1672 to discuss your needs.